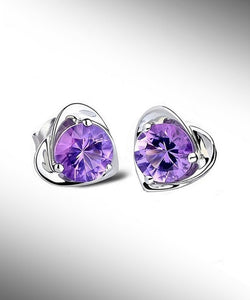 Sterling Silver Amethyst Earrings
This pair of Sterling Silver Earrings are simply lovely.  Folklore suggests the Amethyst is a stone of peace and just being in the mere presence on an amethyst will bring about calm, and produce soothing dreams. This clarity and peacefulness is said to help the mind flow freely.  Who couldn't use a little peace and mental clarity?
Whether you believe in folklore or not, these lovely Sterling Silver Amethyst Earrings will be perfect for the amethyst lover in you.
These lovely gems will arrive with a polishing cloth and is packaged in a lovely gift bag.